AEP Lunchtime Legislative Update with Bo Gould!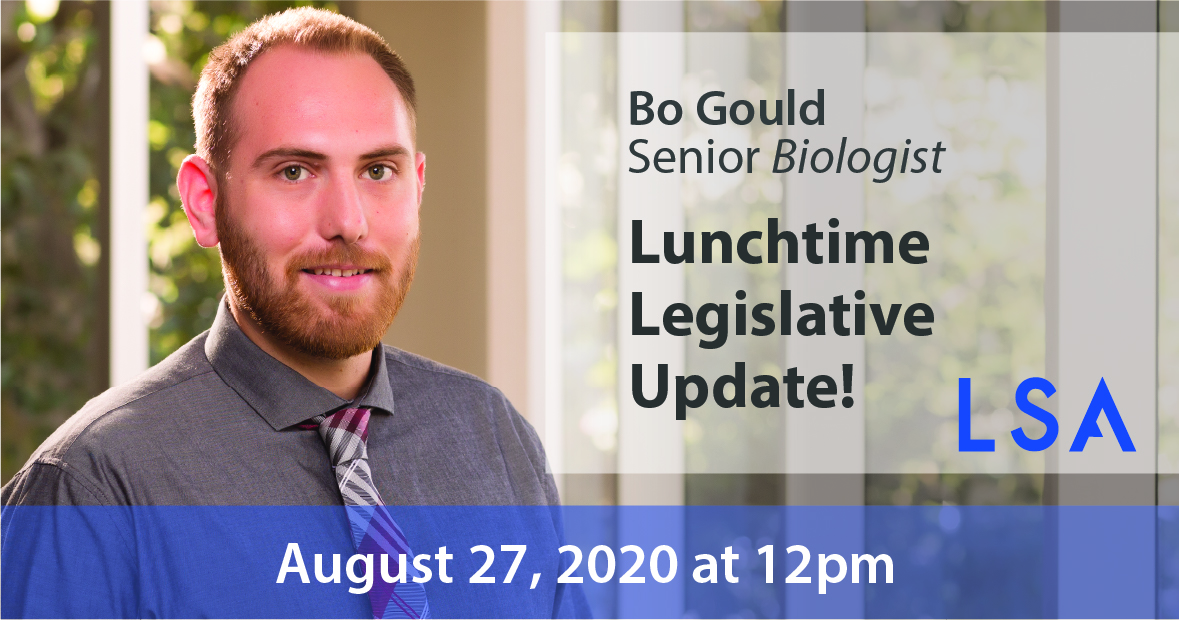 From the major overhaul of federal environmental regulations and policies to the implementation of a new State wetland definition and procedures, 2020 has been one of the most eventful years in decades when it comes to the environmental regulatory landscape in California. Please join AEP from 12:00–1:00 p.m. PST on August 27, 2020, as LSA Senior Biologist and Regulatory Specialist Bo Gould provides an overview of recent federal and State regulatory actions affecting jurisdictional waters delineations, permitting, and related environmental planning issues. The presentation will cover:
New federal Clean Water Act rules and guidance, including the Navigable Waters Protection Rule and a brief discussion of the Section 401 Certification Rule;
Recent and pending court decisions, along with insider guidance received from the United States Army Corps of Engineers;
Key considerations regarding the new State Wetlands Definition and Procedures for Discharges of Dredge or Fill Material to Waters of the State; and
Recent regional guidance regarding the extent of non-wetland waters of the State regulated under the Porter-Cologne Water Quality Control Act.
AEP Channel Counties is inviting you to a scheduled Zoom meeting
Topic: AEP Lunchtime Regulatory Update
Time: Aug 27, 2020, 12:00 PM Pacific Time (US and Canada)
+1 530-414-9389   United States, Truckee (Toll)
Conference ID: 626 607 420#