Habitat Restoration monitoring, Wildlife Field Surveys, Construction Monitoring, Stormwater Sampling
PSoCalGas On-Call Biological Projects
EDF Renewables Palen/Desert Harvest Solar Project, Desert Center, CA
Coachella Valley Wind Repower Project, Coachella Valley, CA
City of Eastvale Interstate 15/Limonite Ave Interchange, Eastvale, CA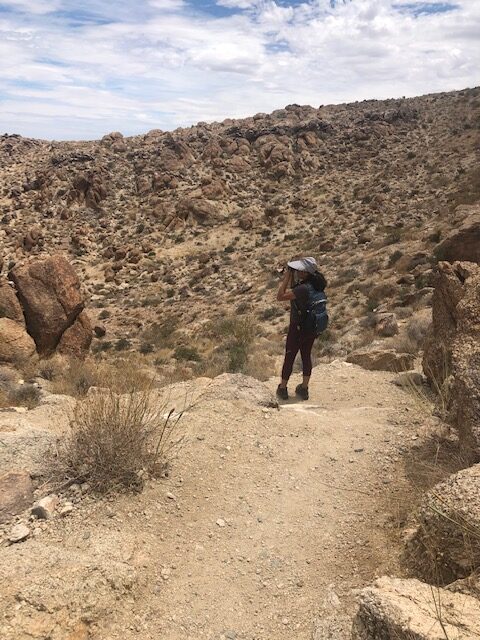 WOULD YOU RATHER LIVE BY THE BEACH, BY THE MOUNTAINS, OR IN THE WOODS?
Woods, I love being surrounded by trees, plants, and wildlife.
I love gardening, it is a relaxing thing for me to do on weekends or after work. I also like hiking with my family and enjoying the outdoors together. In the winter when there is snow in the mountains we enjoy frequent visits to the mountains for some sledding.
WHAT IS YOUR PROUDEST ACCOMPLISHMENT?
I'm most proud of being able to pursue a career I've always wanted and raising my son.
WHAT IS THE BEST PART OF YOUR JOB?
The best part to me, is traveling to areas that are not too far from home and seeing all the different environments and landscapes that I was not previously aware of. I love the change of scenery that every project comes with.
IF YOU WEREN'T A BIOLOGIST, WHAT WOULD YOU BE?
If I wasn't a biologist, I'd love to own my own native plant nursery. I love being surrounded by plants. My knowledge and interest in native plants has grown so much in the time I've spent in environmental consulting.