ASSOCIATE/SENIOR ARCHAEOLOGIST
Prehistoric Archaeology; Prehistoric Artifact and Marine Shell Identification; Circular Shell Fishhooks; Cultural Resource Management
Prima Deshecha Landfill Archeological Site Excavation, Orange County, CA
Desert Stateline Solar Project, San Bernardino County, CA
Tehachapi Renewable Transmission Project (TRTP), Los Angeles and Kern Counties, CA
Laguna Canyon Road Widening Project, Laguna Beach, CA
Level (3) Long Haul Fiber Optic Project, San Luis Obispo-Santa Barbara-Ventura Counties, CA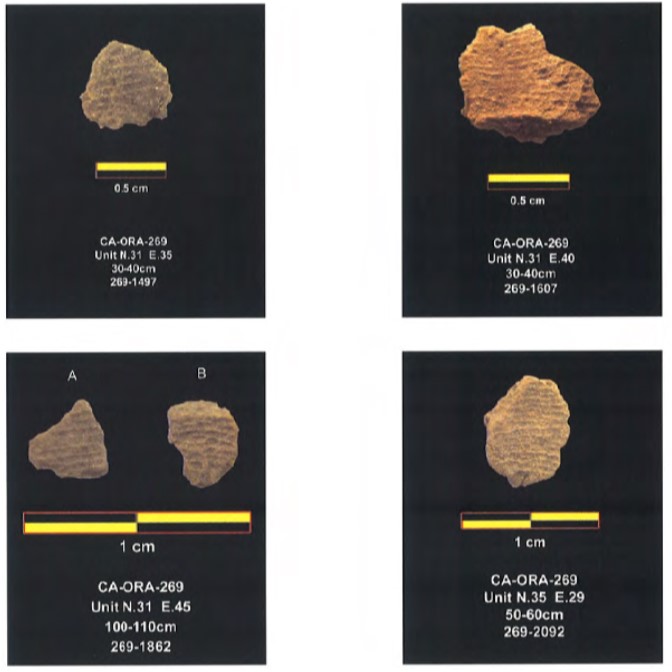 Archaeology, surfing, jogging, and books.
Every cat my wife, Diane, brings home.
WHAT IS YOUR PROUDEST ACCOMPLISHMENT?
Prehistorically: Tie between (1) identifying variations in shell fishhooks distinguishing two coastal native culture areas and (2) finding human fingerprints in fired-clay daub from burned native dwellings. Attached photo: Prehistoric human fingerprints in pieces of fired clay (daub) from burned dwellings in the hills above Corona del Mar/Newport, California (Site CA-ORA-269). Age range: 300-1,800 years old.
Historically: Proving that the 1st location in California named by an American was Isthmus Cove (not Avalon, as was thought) on Santa Catalina Island.
Personally: Marrying Diane!
WHAT SONG WOULD YOU SAY BEST SUMS YOU UP?
Good Vibrations (Beach Boys).
WHAT IS THE BEST PART OF YOUR JOB?
Finding things that have not been seen in hundreds or thousands of years.