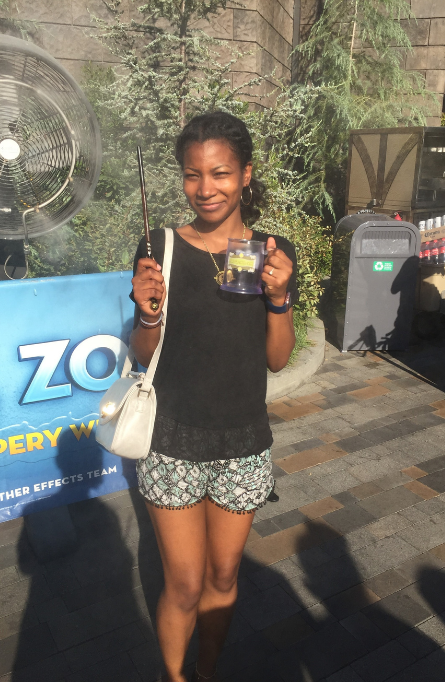 WOULD YOU RATHER LIVE THE BY THE BEACH, NEAR THE MOUNTAINS, OR IN THE WOODS?
The beach because I love the view and the waves make me feel at peace.
WHAT IS YOUR FAVORITE MOVIE?
I've loved the Harry Potter series since I was a child. If I had to pick just one I would choose the final one because it wraps everything together. It teaches you that everything is not as it seems and that some people can surprise you.  (Photo is at Universal Studios in Orlando, FL. We were leaving the Harry Potter Wizarding world, so in the picture I'm holding up my wand and butter beer mug.)
WHAT IS YOUR FAVORITE FAMILY RECIPE?
My mom's rice pudding. Yummy!
I love to watch movies, read, shop, and go out to eat.
WHAT IS YOUR FAVORITE VACATION SPOT?
Anywhere in the Caribbean. The food and the beaches are amazing.