Land Development Strategic Planning, Permitting, and Entitlement; Highway Improvement Permitting and Processing; Federal Environmental Process (NEPA); Transportation Planning and Engineering; Traffic Impact Analysis
Representing LSA on Orange County Business Council and Building Industry Association Boards of Directors
La Pata Avenue Extension Project, South Orange County, CA
Laguna Canyon Road Realignment, Laguna Beach, CA
Marine Way Implementation, Irvine, CA
South County Traffic Relief Effort (SCTRE)
SR-241/SR-91 Express Connector EIR/EIS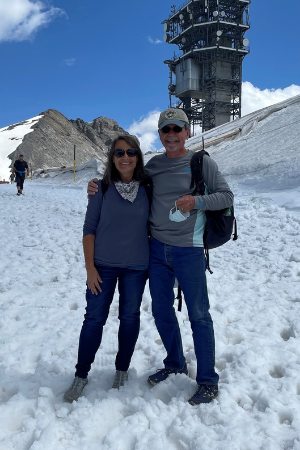 WHAT IS YOUR FAVORITE FAMILY RECIPE?
Old-fashioned homemade vanilla ice cream and root beer floats, of course
Woodworking is probably my main hobby. I enjoy making gifts, both large and small, for our granddaughters and others.
WHAT IS YOUR FAVORITE VACATION SPOT?
Now that some of our kids have moved to Germany, Europe is a favorite destination for us. (The photo is at Mt. Titlis in Switzerland, taken in 2021.) However, as a Californian, I've been spoiled by the opportunities for both beach and mountain vacations. I love the Eastern Sierras in both winter and summer, particularly the little village of June Lake. I grew up fishing and hiking on the June Lake Loop, and over the past 40 years have taken my kids fishing, backpacking, and skiing in that region. For a beach vacation, I head to the Central Coast of California. You can't beat Moonstone Beach for building forts out of driftwood, Montana de Oro for investigating tide pools, the Embarcadero in Morro Bay for fish and chips or Refugio State Beach for beach camping.
WHAT IS THE BEST PART OF YOUR JOB?
The opportunity to work alongside such a diverse group of individuals with such an abundance of talent and enthusiasm. It keeps me young.
WHAT IS THE BEST ATTRIBUTE ABOUT WORKING AT LSA?
Learning from all the very bright and enthusiastic staff, and the opportunity to grow the business and create jobs.