29th Annual CTF Transportation Awards Program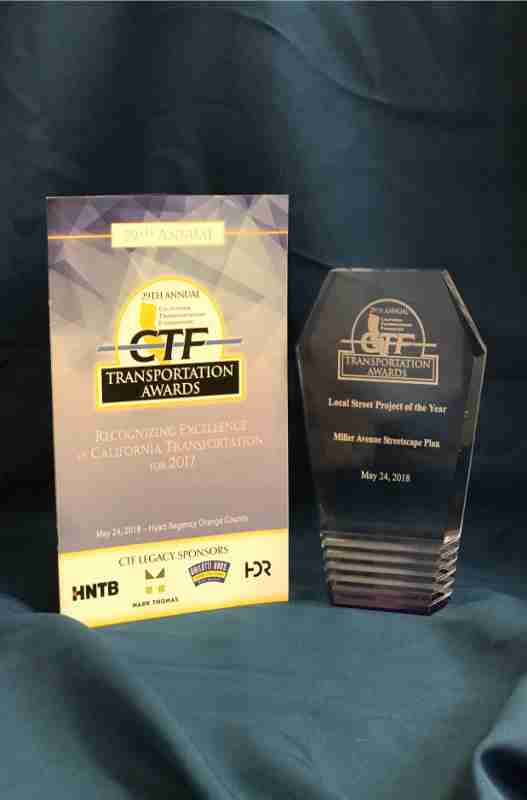 The California Transportation Foundation (CTF) recognized transportation achievement in 2017 from across California at the 29th Annual CTF Transportation Awards on May 24, 2018. The Miller Avenue Streetscape Plan won the Local Street Project of the Year award with Les Card accepting the award on behalf of LSA.
Miller Avenue is the key arterial roadway serving the community of Mill Valley, Marin County. Several years ago, city leaders began the planning process to transform the corridor into a complete street that balances transportation modes between vehicles, pedestrian, bicycles, and transit. The project team supported the community from the initial planning through construction.
LSA prepared the California Environmental Quality Act documentation and assisted the City of Mill Valley in obtaining regulatory permits for the Project. The City celebrated completion of the roadway improvements on November 4, 2017.
LSA is honored to be part of the multidisciplinary team that made the project a success, including the City of Mill Valley, Transportation Authority of Marin, Parisi Transportation Company, 4leaf Inc., Maggiora & Ghilotti, RHAA Landscape Architects, Wallace Roberts & Todd LLC, and WRT Design.
In addition to the CTF award, the Miller Avenue Streetscape Project was named Overall Winner for the 2018 Outstanding Local Streets and Roads Project Awards Program, a statewide honor from the Save California Streets Coalition, which includes the League of California Cities, California State Association of Counties, County Engineers Association of California and other organizations.