Celebrating 40 Years in the Industry!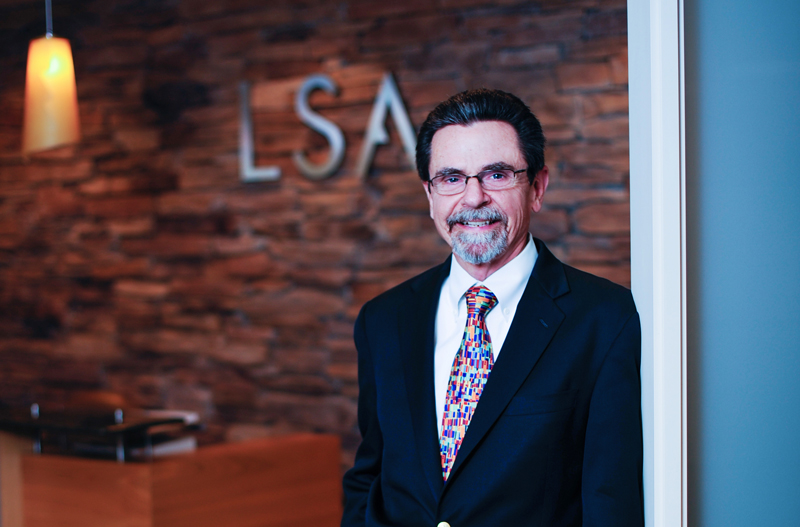 Hello, and welcome to the LSA Blog! In honor of LSA's 40th Anniversary, we are highlighting the career of our CEO, Les Card. Les has been with LSA for 32 of its 40 years and has seen it develop into the industry leader it is today. For more information regarding LSA's CEO, please visit his profile page here: https://lsa.net/staff-member/les-card/.
We had an opportunity to interview Les about his many years at LSA.
Q: LSA's 40th Anniversary means new beginnings founded upon its guiding principles. Between 1976 and 1988, the company was slowly forming. Describe the beginnings of the company leading to its transition to an employee-owned company. Describe the principles and values discussed as the company was created.
A: Larry Seeman was an environmental planner and biologist specializing in regulatory permitting for planned communities. Larry, being an entrepreneur, realized a new market sector would open up for conducting environmental analysis after the enactment of the California Environmental Quality Act (CEQA) in 1976. Larry opened two offices––one in Newport Beach and another in Berkeley.
From 1976 through 1983, the business focused on conducting environmental review for private clients. In 1983, Larry was interested in exploring a new venture and was looking for partners for Larry Seeman & Associates. Larry approached George Kurilko, Jim Culver, and me to see if we would be interested in joining him as partners in his company. He arranged a meeting with me to explore the possibility of working together. The meeting was a success, and I officially joined the company in 1984.
In 1984, we made the decision to acquire the company from Larry. In order to do so, we formed an Employee Stock Ownership Plan (ESOP). At this point, our company transitioned into LSA Associates, Inc. Our ESOP continues to serve two purposes: (1) attracting and retaining the best employees, and (2) enabling them to build a retirement estate; these purposes have proven to be very successful. A key factor in LSA's early success was our drive to incorporate multiple technical disciplines in-house, which now include air quality, noise analysis, cultural resources, transportation planning, GIS, and natural resources. Because we did not have an engineering design discipline in-house, we were able to partner with many engineering firms seeking leadership for their environmental permitting requirements.
Q: The period from 1989 through 2008 proved to be one of expansion as LSA increased its number of employees by 175% and opened eight offices in two states. How did the founding principles and philosophies contribute to the company's growth and employee retention?
A: As the market grew, so did LSA. We expanded to Riverside because the Irvine office had run out of room. We also opened an office in Fort Collins, Colorado, and seven offices in California (Berkeley, Carlsbad, Fresno, Palm Springs, Point Richmond, San Luis Obispo, and Rocklin). Our reputation grew as we did, and engineering firms, transportation agencies, and private developers sought us out to handle larger environmental review.
During this time, we hired 60 new employees. This growth was the result of a combination of a positive work environment and our compensation package. The combination of the ESOP, profit sharing, 401k matching contributions, and deferred income plan helped attract and retain employees. Longevity is so valuable in the consulting business, and there is great value in retention and continuity. We have 200 employees, many of whom have been here at least 15 years. People enter LSA because of the employee benefits; however, they stay because of the hardworking and familial atmosphere the company fosters, along with the ability to grow and develop as a professional.
However, we're also supportive of our employee's career goals and recognise that this may not be the only job they ever want to work in. We create a culture of support should someone be thinking of leaving us, and help them to formulate a strong resume. Some employees wish to use a resume writing service on sites like https://www.arcresumes.com/local/illinois/, and we help them to sell the skills they have picked up from working here. So, we really are an employer that gives back to our employees and supports them every step of the way from their arrival with us to their departure from us. That's a key part of employee retention that many companies forget – they try to hold on to their employees with every ounce of their might, but that can create an atmosphere of not being able to escape. That's why we actually encourage our employees to expand their career goals, and it seems to make them want to stay!
Q: Despite the setback from the recent recession, LSA has continued to grow from 2009 to the present. How do you see LSA progressing in the next 20 years?
A: I don't see any hindrance to growth. We have noticed that statewide land development is accelerating and infrastructure needs are continuing to grow. Competition among similarly sized firms has also shrunk, with several of our competitors being acquired by large engineering firms. Our business will continue to grow as increased regulation on the State and federal levels continues to be implemented.
In the last year alone, we have hired 11 full-time employees. We have several large-scale, long-term infrastructure projects, such as segments of the California High-Speed Rail, the Interstate 710 Corridor in Los Angeles County, the Mid County Parkway in Riverside County, the MidCoast Corridor Improvement Project in San Diego County, and the Measure M2 projects in Orange County.
I am optimistic about the future. We plan to continue measured growth as we expand and generate additional business throughout the State.