LSA's Agent of Change: Bethany Dengler-Germain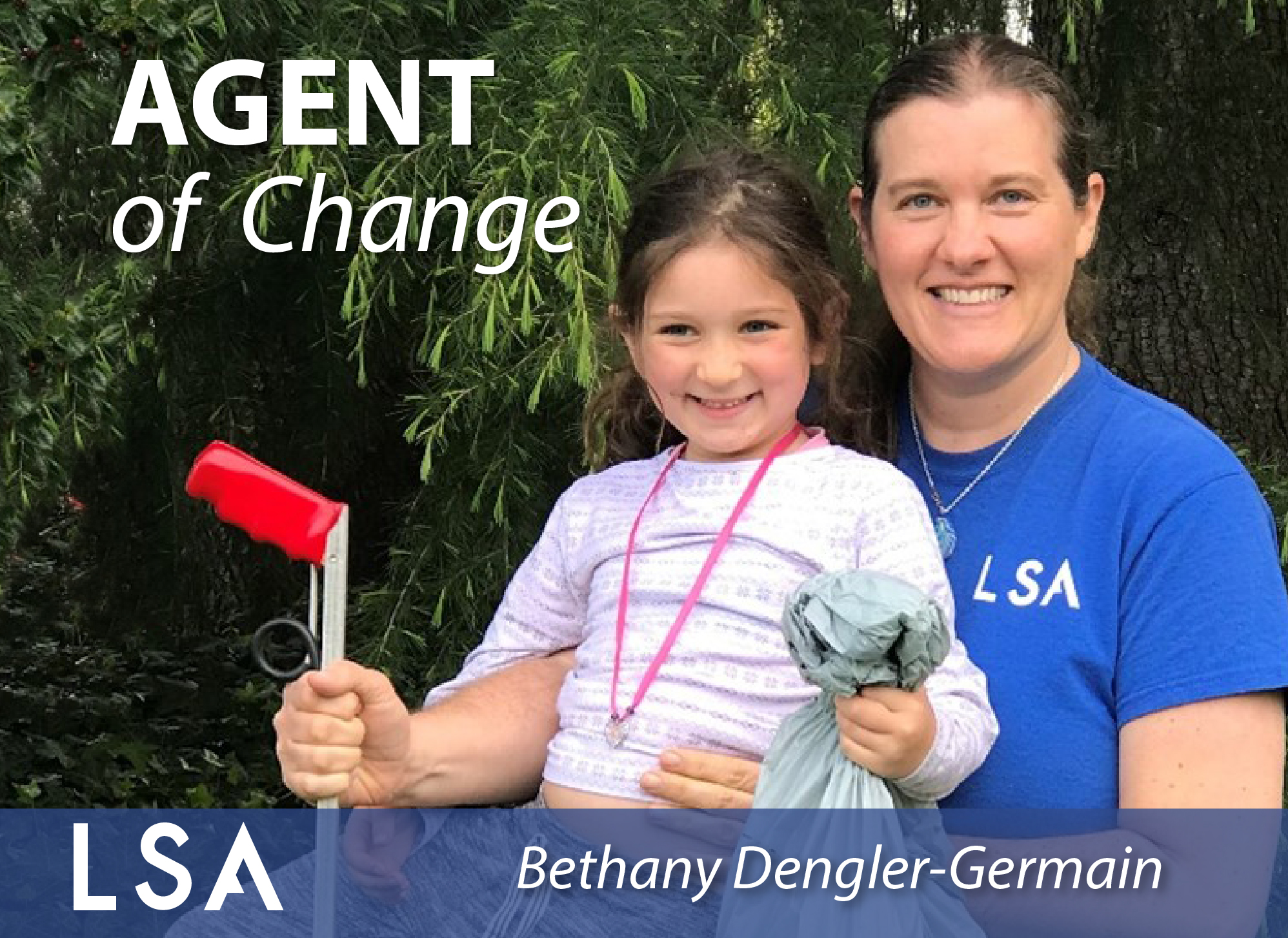 LSA Agent of Change Spotlight: Bethany Dengler-Germain
We're excited to announce that June's "LSA Agent of Change" is Bethany Dengler-Germain! Bethany is a biologist in our Point Richmond office. She is passionate about spreading eco awareness at LSA and in her personal life. She has actively participated in the Green Team for the past 4 years and has taken on a more active leadership role this past year. Part of her leadership responsibilities include planning and facilitating meetings and giving presentations to promote environmentally responsible practices at work and in our daily lives.
Bethany and the Green Team actively promote employee engagement and have succeeded in attracting personnel from all disciplines, thereby increasing membership in the Green Team. As part of her role as facilitator of Green Team meetings, Bethany encourages positive communication and participation in the meetings. She works with the Marketing team in creating Green Team social media pieces that promote environmentally responsible activities for LSA. She focuses the Team's conversation on various environmental causes (for example, ocean conservation) and has arranged to have Adrienne Pierce from the Climate Reality Project speak about climate change and how people can change their behavior to reduce GHG emissions. Bethany is also passionate about increasing awareness in how we as a community can reduce our carbon footprint via composting, recycling, and using more eco-friendly products at home and at work. One initiative she brought forth to the Green Team was a resource list comprising examples of companies she personally uses that actively promote waste reduction in their products.
Bethany participated in the GHG data collection for the companywide Sustainability Plan and has successfully recruited more staff to help. Pre-COVID, she actively participated in on-site trash clean-ups with other Point Richmond employees. More recently, she spearheaded the Earth Day Eco Challenge, which the Green Team led, to promote trash clean-up and environmental awareness throughout the company. Using our GIS resources, she managed the development of mapping resources that locate events in which individual LSA staff participate. As a result, we can see where we all made an impact and acted as agents of change!
Thank you, Bethany, for your passion to make the world, your community, and LSA a better place!