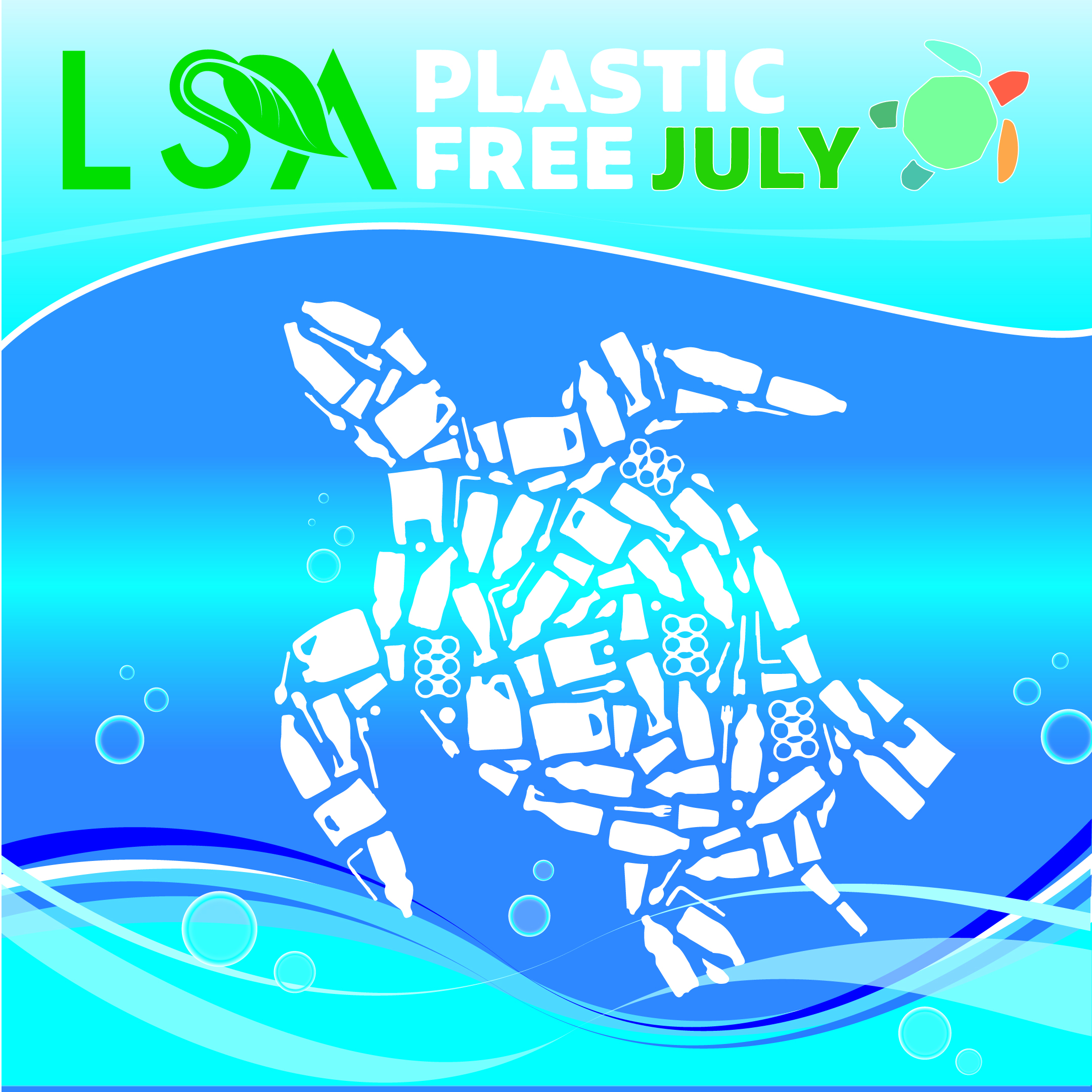 The LSA Green Team hosted its first ever Plastic Free July event and was met with an excellent turnout from all LSA offices! In an effort to reduce plastic use at LSA, the Green Team announced a month-long event during July to reduce plastic use across the company and in LSA employees' daily lives outside of the office. The Green Team encouraged all staff to educate themselves with the wonderful resources that www.plasticfreejuly.org provides. The first thought that comes to mind in reducing plastic in our daily lives is often plastic water bottles. While LSA employees certainly made an excellent effort in reducing their use of plastic water bottles, many found very creative and thoughtful ways to reduce plastic in their daily lives that may not be the first thing to come to mind.
Proposal Coordinator Christine Golus made an effort in her routine grocery shopping to bring her own reusable mesh bags for buying unpackaged fruit and vegetables at the grocery store, rather than using the provided plastic bags. Along with this, she also purchased meat from the butcher more often to avoid plastic and foam packaging from prepacked meats. Cultural Resources Analyst Kendra Kolar also found several unconventional ways to reduce single-use plastics, making various switches such as laundry detergent sheets (in lieu of plastic jugs), dishwasher detergent pods in primarily cardboard outer packaging, toilet paper wrapped in paper packaging, and cotton swabs packaged solely in cardboard rather than including plastic. Biologist Aly Schmidt made changes at home, refusing to use balloons and other single-use plastic party decorations, even swapping out glitter for confetti made out of dried leaves. Biologist Bethany Dengler-Germain involved her kids to brainstorm ways to reduce plastic at home, including purchasing metal straws to eliminate single-use plastic straws and using reusable Tupperware containers for leftovers at restaurants.
Several of LSA's nine offices located across California hosted officewide events to participate in Plastic Free July. The Carlsbad office refused the use of single-use plastics in the workplace kitchen. The workplace kitchen is a great place to start when it comes to reducing plastic. Instead of using single-use plastics, the office swapped them out in favor of reusable alternatives, such as ceramic mugs and plates, stainless steel cutlery, and glass cups. The Irvine office hosted its monthly staff meeting as a "plastic free staff meeting," and employees in attendance brought their own water flasks and tumblers, rather than using plastic throwaway cups and bottles of water.
The participation across the offices was very encouraging to see, with LSA staff making a fantastic effort to reduce the use of plastic in offices. With Plastic Free July now over, the hope is that these efforts will continue beyond July and throughout the year to do our part to reduce the use of single-use plastics.