The Passing of Mike Trotta, LSA CEO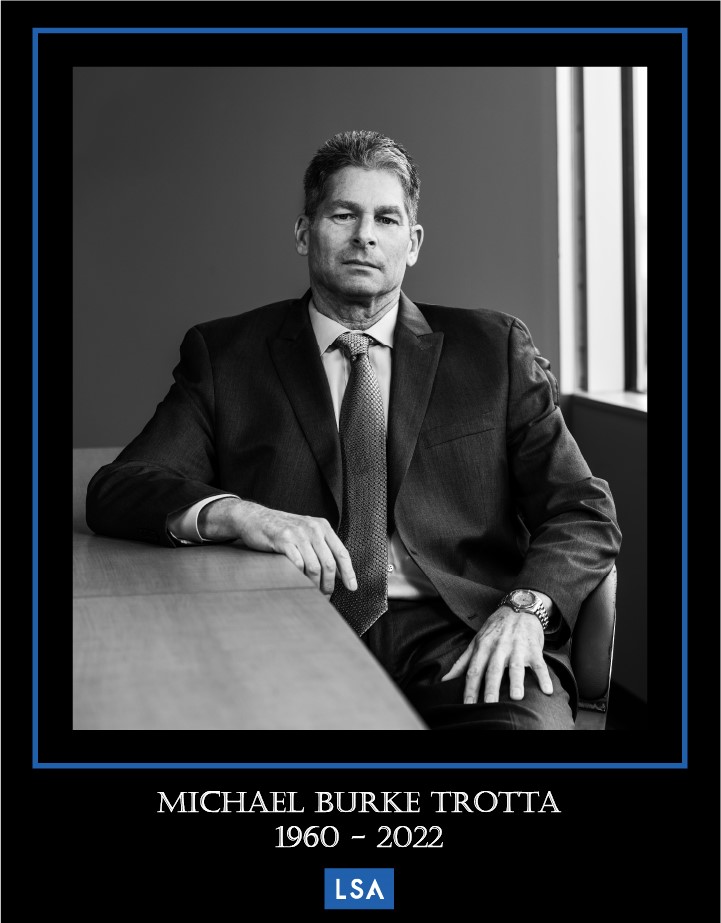 It is with great sadness that we announce that Mike Trotta, Chief Executive Officer of LSA, passed away suddenly on Sunday, December 4, 2022.
On behalf of our Board of Directors, management team, Principals, and staff members, we extend our deepest sympathies to Mike's family. As we grieve the loss of our leader and deal with the shock of this, we remember and honor the legacy Mike left behind. With a Bachelor's degree in biological sciences from the University of California Santa Barbara, Mike began his career at LSA in 1996 as a member of our Natural Resources group. He was promoted throughout the years to Project Manager, Associate, and then Principal in 2006. Mike spearheaded the opening of our Carlsbad office in 2005, becoming Managing Principal of the office in 2008. Mike ascended to the role of Executive Vice President in 2015, President in 2017, and he became our CEO in 2019.
During his tenure, Mike's expertise in resource agency permitting, biological assessments, ecological restoration, and project management supported many complex projects for our clients, including SCE, SDG&E, SANDAG, the Metropolitan Water District, Kaiser Permanente, and cities and counties throughout Southern California. In addition to this professional work, Mike was deeply committed to the staff at LSA. Mike set a goal for himself in 2022 to connect with each and every employee through a "CEO Connect" program of his own devising. He knew that our employee-owners are LSA's greatest asset, which is why the program was so important to him. He also helped create LSA's first Diversity, Equity, and Inclusion committee, of which he was extremely proud.
Mike was a devoted husband and father and was highly active in his personal life. He loved the outdoors, fishing, hunting, and surfing, often sharing these activities with friends and fellow co-workers.
As LSA navigates the road ahead, we are committed to continuing Mike's vision for the company. We will always remember him as the incredibly smart, kind, and thoughtful person that he was. His final message to staff before the Thanksgiving break included a reminder to us to be kind to one another, acknowledge each other's hard work, and be welcoming to all.
Funeral services will be held Friday, December 16, 2022, at St. Patrick Catholic Community Church, 3821 Adams Street, Carlsbad at 11:00 a.m. A lunch reception will be held following the service. Condolence cards can be mailed to: LSA, 703 Palomar Airport Road, Suite 280, Carlsbad, CA 92011