LSA's Green Team – Earth Day 2023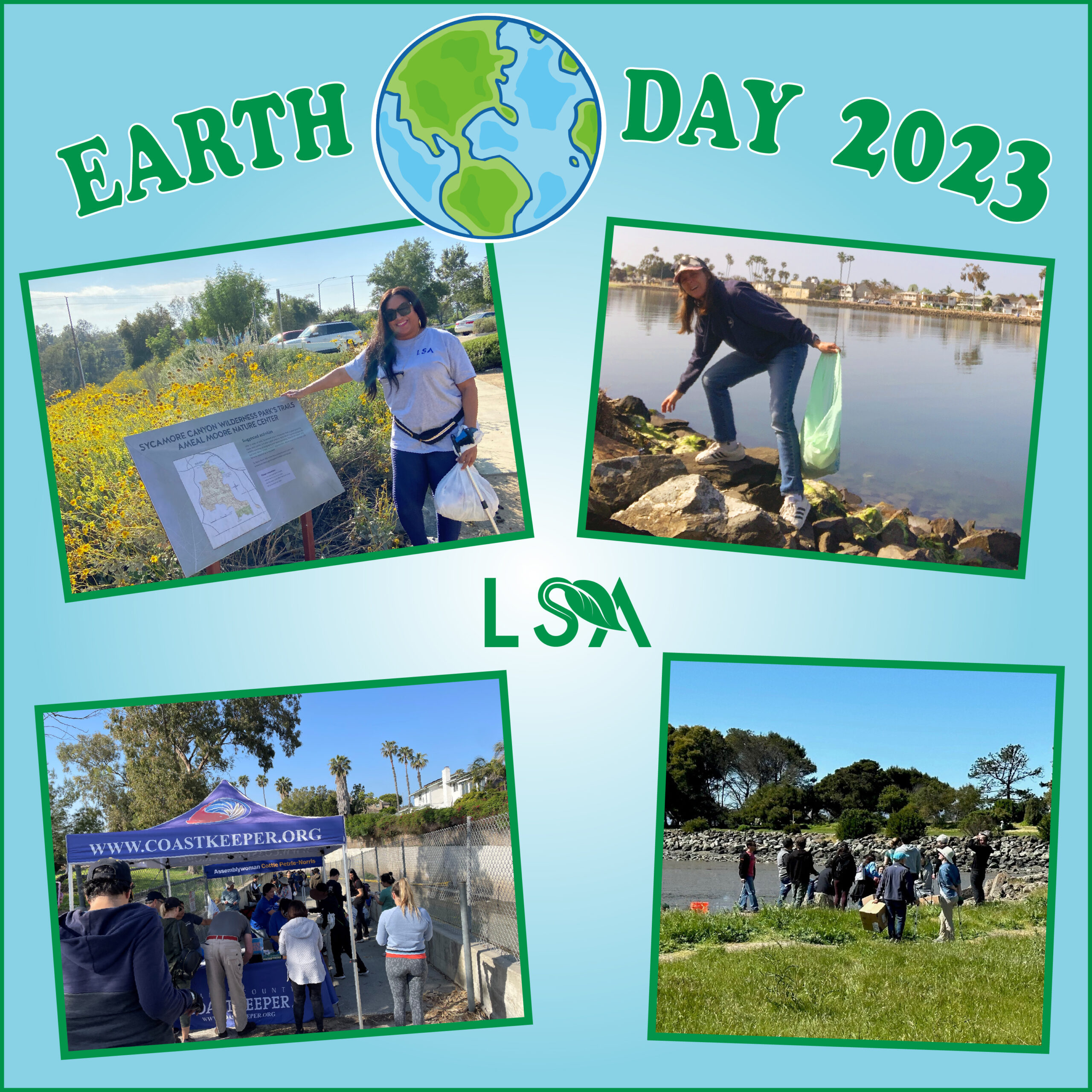 LSA's Green Team continued its annual tradition of conducting an Earth Day Challenge amongst LSA staff this year and were excited to see an increase in participation from last year. The challenge asks staff to venture out and engage in an activity—big or small—to help the environment. This year, LSA is proud of its staff going out and engaging in a variety of activities to help make a difference on this year's Earth Day and during the entire month of April.
Last year, LSA GIS Specialist Holly Torpey designed a web map that allowed LSA staff to post photos and descriptions of themselves during their Earth Day activities. This year, the web map saw more than double the submissions from LSA staff compared to last year! Many LSA employees have made efforts to make environmentally conscious changes to their daily lives or take the time to go out and make a difference, and it is exciting to see growth in participation.
LSA saw participation from the majority of its offices and almost all disciplines at LSA. Senior Marketing Manager Heather Saretsky from LSA's Irvine office took action on Earth Day in Newport Beach, participating in the Coast Keepers cleanup at the Santa Ana-Delhi Channel with her daughter. Also from the Irvine office, Holly Torpey picked up trash around the rocks lining Marine Stadium in Long Beach. Ms. Torpey commented on her experience: "I wish I could say I made a dent in it! The good news is that I only saw one single-use plastic shopping bag, so I'd say the bag ban is working well! Single-use plastic drink containers (or parts of them) were probably what I saw the most of". Other employees participated in Earth Day events with their children, which they said was inspiring to pass on wanting to be environmental stewards to the next generation. LSA folks enjoyed bringing their children and dogs along on trash clean ups as well.
LSA Office Managers Lori Sellers (Riverside office) and Ameara Martinez (Point Richmond office) both participated in cleanup efforts in their cities, with Ms. Martinez cleaning up at the front of the Point Richmond office and has plans to plant flowers soon. Associate Biologist John Kunna engaged in several activities on Earth Day and over the weekend, including a beach cleanup in Berkeley, coast clean-up in the mudflats of Emeryville.  He also biked to the Berkeley Marina to collect City of Berkeley compost to plant native wildflower seed for pollinators in his front yard.
LSA believes that every day is Earth Day. Along with getting out on April 22, many staff also have made changes to their daily lives, from installing solar panels to biking to work, in an effort to do what they can to provide a cleaner environment. The surge of activity during this Earth Day Challenge was great to see and the LSA Green Team can't wait to see LSA staff continue their efforts for the rest of year and beyond.