Tony's Corner – Work like you plan your vacation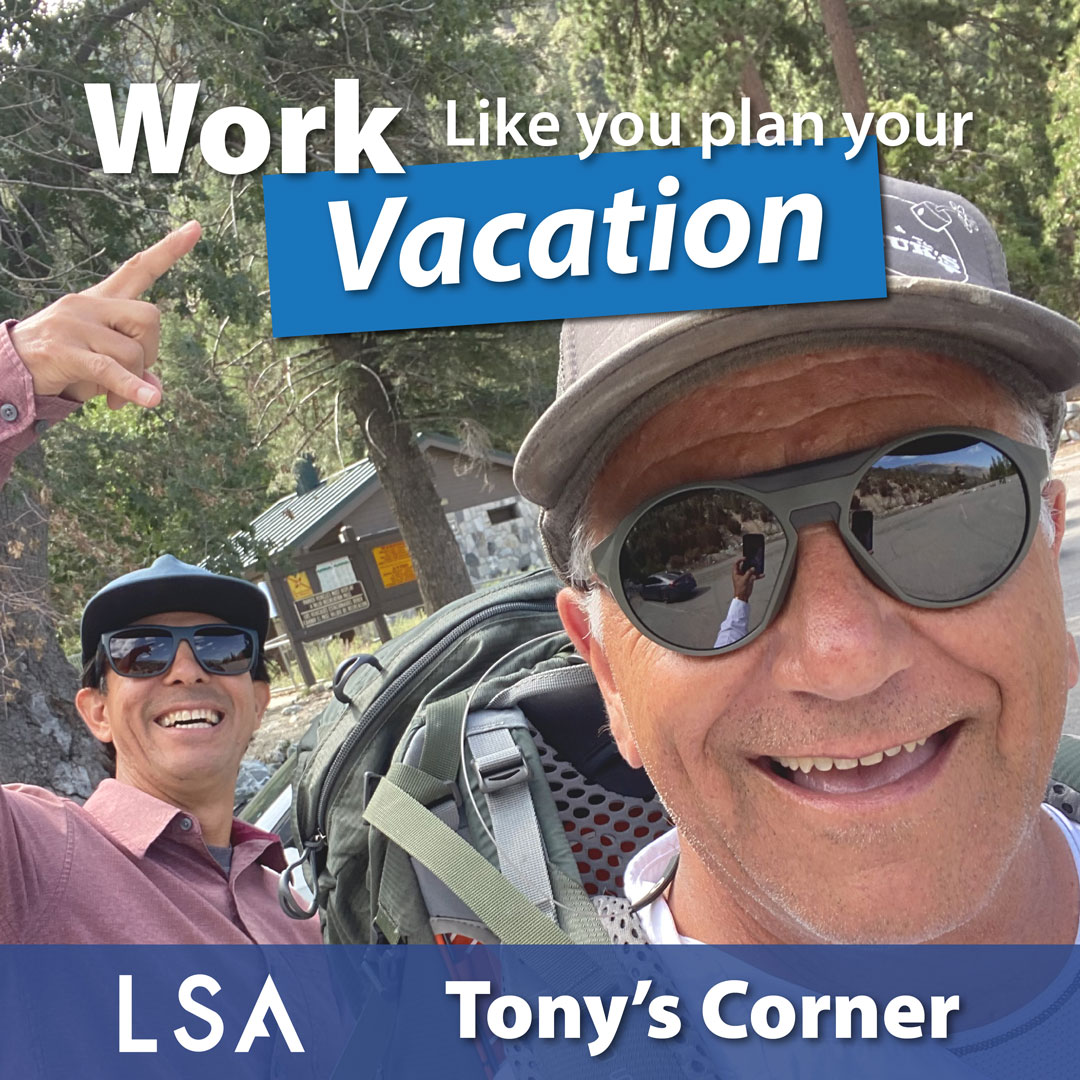 It's August and summer is ON! Longer days and warmer temps mean one thing – recreation and vacation. I was speaking with a colleague about vacation plans, and I was impressed with the level of detail that went into their itinerary. I also had the opportunity to watch as another friend was throwing bags and sacks in the back of their truck and was just, "heading north". We all have our own concept of a restful, fun vacation.
And that made me think. LSA is not a button factory. We don't can fish. Ours is not a repetitive exercise measured in volume of exact copies of items. LSA is in the business of intelligence, variability, experience, and creativity. We sell decades and decades of shared but individual experience and expertise in a regulatory process unique to this State. And we are very, very good at it.
I think one key reason why we are so good is our different approaches to problem solving. The success of LSA starts with mutual respect and assurance that our professionals have the necessary technical proficiency and understand their role in the process. I would argue this initial quality is but a starter and is ubiquitous in the industry. Just go to a competitor's website and read the litany of technical qualifications each organization provides. This does not define success.
Tolerance of difference, appreciation of perspectives, encouragement of creativity, and expectation of outcome. These are the ingredients that create true success. Years ago, I remember, I got stuck in a problem. I could not see the forest through the trees. So, I asked one of my Mobility mates to take a look. Within a few moments, he could see the issue, and restructured the proposition so it could be solved in a new, bold way.
And it happens across disciplines and around offices. People at LSA are encouraged to be creative, be themselves, and confidently solve problems. We are successful because we celebrate perspective. We expect excellence in the manner it arrives.
Your approach to your vacation can be much like your approach to work. Plan as you will and create your contentment. And as my friend, Lonnie, would say, "Keep crushing it!"
Anthony Petros, CEO