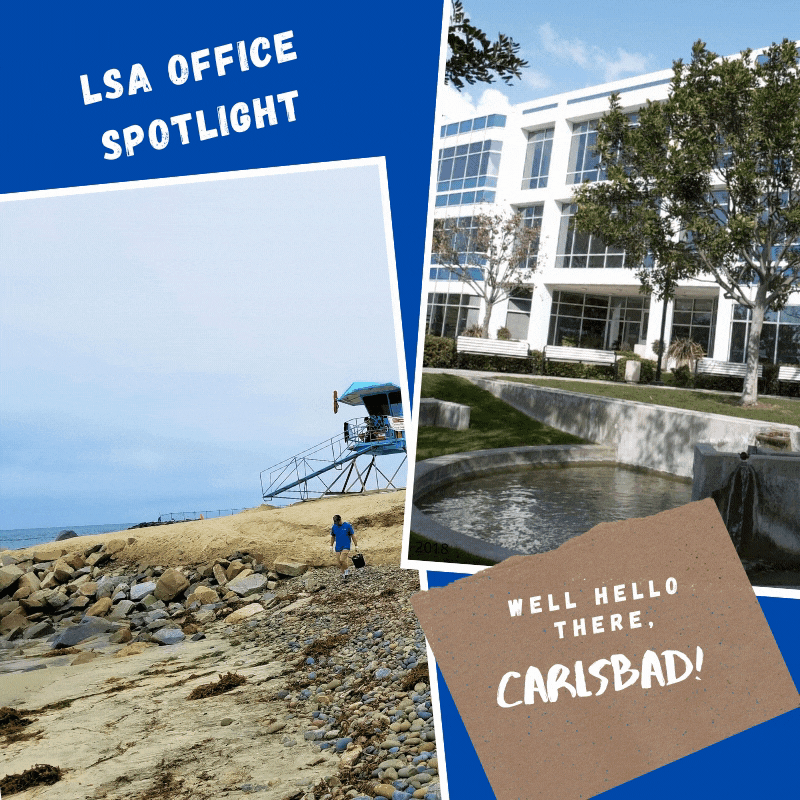 LSA's Carlsbad office is conveniently located just 300 yards from Carlsbad State Beach and a few blocks from the Poinsettia COASTER Station. The Carlsbad team is a small, fun group known for being laid-back yet hardworking, with experts who excel in a variety of specialties, including environmental analysis, biological resources, and air quality. The office was established back in 2005 to better serve LSA's clients in San Diego County; it was then headed by Mike Trotta, an Associate at that time who is now the CEO of LSA and remains at the Carlsbad office.
Carlsbad staff members routinely engage in collaborative efforts with staff members from other LSA offices. As the current COVID-19 pandemic has intensified the requirement of remote collaboration company-wide, LSA's existing methods for managing staff workloads by discipline, providing staff with the right expertise on each project, and collaborating across offices to produce high-quality work products have proven invaluable to continuing to serve LSA's clients in the current environment. And although the Carlsbad team misses its office by the ocean and the occasional "board meetings" that used to take place by the water, the transition to operating with a remote workforce has been reasonably smooth for the entire team.
San Diego area projects include the following: on-call biological resources and environmental work for the City of Carlsbad (for which LSA has been providing services for nearly 15 years); the final permitting/approval stage of the El Camino Real at Cannon Road Intersection Improvements Project; mitigation site performance monitoring and reporting (e.g., the Calavera Dam Routine Maintenance Project, Romeria Street Drainage Improvement Project, Kelly Channel Failure Project, Faraday Avenue Slope Repair Project, and El Camino Real Bluff Failure at Tamarack Avenue Project); biological resources analyses for sewer line manhole maintenance projects in urban and undeveloped areas; and services related to biological resources, cultural resources, and air quality/greenhouse gas emissions and preparation of a Mitigated Negative Declaration for a concrete-lined channel repair project along Buena Vista Creek.
LSA's Carlsbad Principals: 
Since 2011, the Carlsbad team has been supporting the project management consultant team on the San Diego Association of Government (SANDAG) Mid-Coast Corridor Transit Project, an approximately 11-mile extension of the San Diego Trolley's Blue Line from the Old Town Transit Center to University City with stops at Tecolote Road; Clairemont Drive; Balboa Avenue; Nobel Drive; the VA Medical Center; the University of California, San Diego, Executive Square; and the UTC Transit Center. LSA has provided environmental and permitting expertise and peer review of technical studies on behalf of SANDAG, supporting the draft, supplemental, and final environmental documents and providing ongoing support as construction nears completion.
Additionally, LSA's Carlsbad office was recently awarded on-call contracts for air quality and environmental long-range planning services with the Port of San Diego, and the office is also on the City/County/Port consultant rotation list for biological resources, cultural resources, general environmental documents (Environmental Impact Reports/Environmental Impact Statements [EIRs/EISs]), and surveying/geographic information systems (GIS) services. The Carlsbad office is sought out by many teaming partners for subconsultant roles on several on-call contracts for local agencies including SANDAG and the North County Transit District (NCTD). The Carlsbad staff also works on projects in Imperial, Riverside, and Orange Counties and throughout the State as demand dictates, including supporting solar, water district, and transportation work.
The Carlsbad staff enjoys connecting (virtually, for now) with clients and other industry experts at local business development events and conferences. They are looking forward to being able to do so in person—hopefully, in the near future!